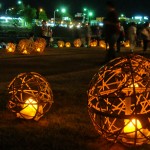 8月6日(土)から京の七夕が始まります。
期間中は各会場でライトアップが行われます。
今年から会場が増えたみたいで
北野天満宮・梅小路公園・岡崎エリア・京都府立植物園が会場として追加されました。
もちろん例年通り鴨川会場・堀川会場はあります。
詳細は下記HP御覧ください。
https://kyoto-design.jp/event/21953
[写真提供]
http://photo53.com/ 京都フリー写真素材
The events are designed around the theme of "Wishes," in honor of the tradition of "making a wish once a year." It is a ten-day event full of magical productions of bamboo and light, where visitors can enjoy the tradition of Tanabta in true Kyoto style.
The Horikawa Site will offer romantic productions such as the "Milky Way of Light," which replicates the beautiful Milky Way full of stars, and the "Yuzen Nagashi of Light," which embellishes Horikawa River with light and beautiful Yuzen silks. The Kamogawa Site will create a wondrous world with productions such as the "Furinto," a wind chime installation of refreshing sounds, and the "Walkway of Bamboo and Light," an enchanting path of illuminated bamboo shoots.
At each site, visitors can purchase "Picture Postcard Strips" (100 yen each) for writing wishes and attaching them to bamboo leaves. In addition, many temples and shrines in the area will be putting up Tanabata decorations and offering special nighttime admissions.